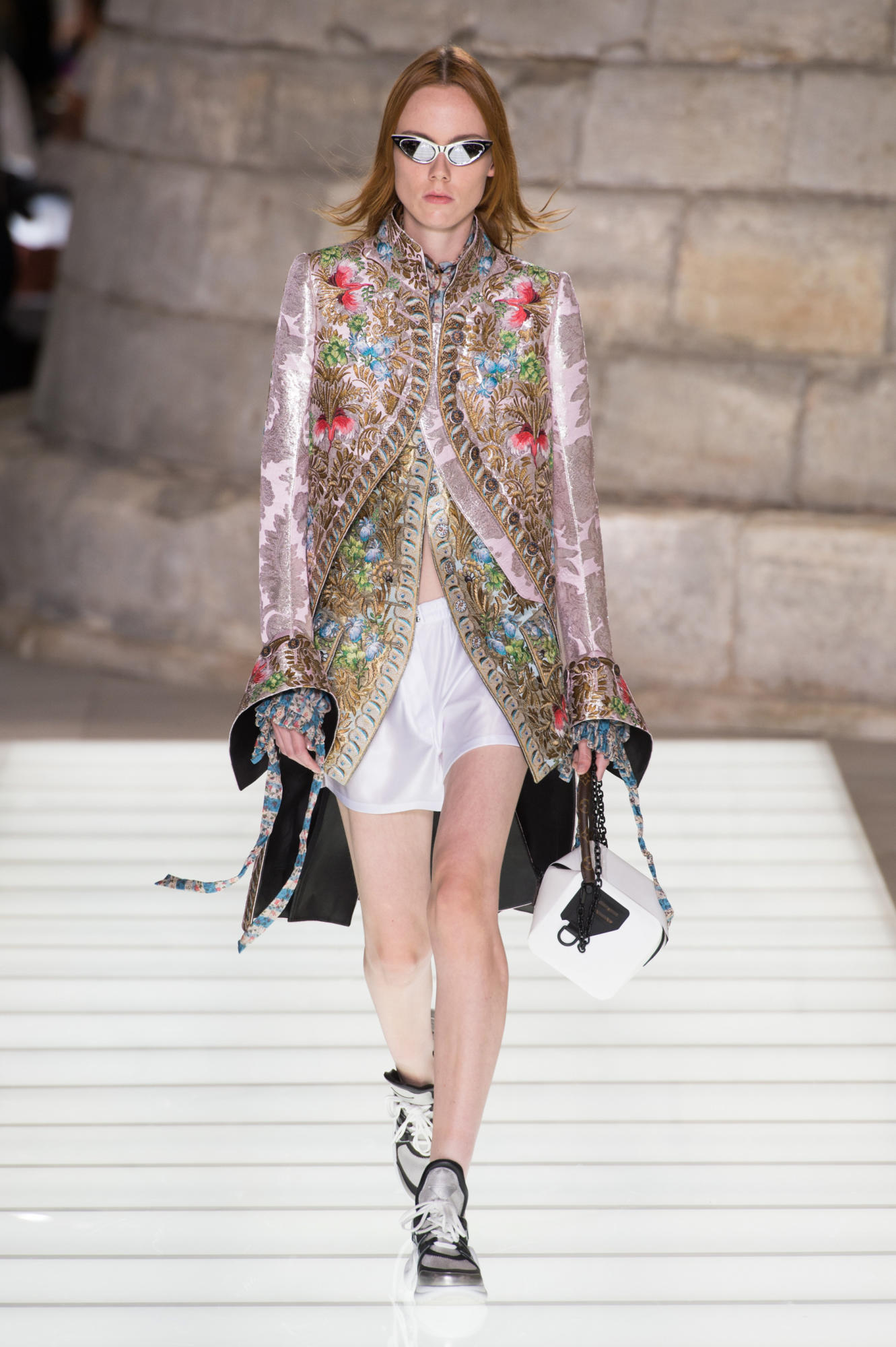 Back in January, Louis Vuitton appeared what may go down as a standout amongst the most-built up (and most gainful) mold coordinated efforts ever: an accumulation in association with notorious skate mark Supreme, which planner Kim Jones uncovered on the name's Fall 2017 men's runway. On Tuesday evening in Paris — insignificant months after the range at last dropped over the late spring — the French house held its Spring 2018 ladies' show at the Louver, and obviously Creative Director Nicolas Ghesquière was slanted to ride the lucrative streetwear wave for at any rate another season. Beside an astonishingly stacked front column, the most remarkable part of the group was the sheer amount of Louis Vuitton X Supreme attire and extras, which showgoers wore to flex for the picture takers, so it's not very astounding that the LVMH goliath is proceeding to court the sneakerheads.
For spring, Ghesquière mixed the modern with the historical, beginning with the venue: The runway was staged inside the medieval wing on the ground floor of the Louvre, lined with exposed bricks that made up the walls of a fortress, which protected the former royal palace from invasions as early as the 12th century. Always a master at taking elements of classical tailoring and giving them a futuristic twist, Ghesquière looked to "18th century French aristocratic garments" as a starting point for the collection, according to the show notes.
Read More : Louis Vuitton Launches Custom My LV Leather Belts
The doublets, tie-neck silk blouses, ruffled sleeves and rich brocades that were once fit for a king were cut in cropped silhouettes and paired with sporty, striped separates, athletic shorts, metallic pants and — what else? — clunky basketball sneakers. The latter gave a casual slant to the range's flowy, feminine dresses, as did the tearaway and cuff details on trousers, some of which had ruffles themselves. Several dresses had nipped-in, hourglass waists as if corsets hid underneath, but in lieu of old-fashioned evening gowns, Ghesquière showed glittery party dresses with intricate beading and fringe.
Another element that may have been influenced by the success of the Supreme collab was the use of the LV logo on checked T-shirts — which will surely reach must-cop status as quickly as the sneakers. And as a bit of a pop culture-savvy surprise, Ghesquière snuck in a "Stranger Things" tee, too, as a nod to his favorite guilty-pleasure Netflix series (that conveniently returns for season two later this month). Celebrity designers, they're just like us.